Texas QB David Ash Gives Up Football
Texas quarterback David Ash's football career is over. Three weeks after Ash suffered his latest concussion in a Week 1 win over North Texas, Texas head coach Charlie Strong announced the QB has decided to give up the sport to maintain his long-term health.
Longhorn Network and ESPN Texas provided the news from Strong's Wednesday press conference:
Charlie Strong announces that David Ash has decided to give up football.

— Longhorn Network (@LonghornNetwork) September 17, 2014
Charlie Strong: We decided, because of his health, David Ash is not longer going to play football — ESPN Texas (@ESPNTexas) September 17, 2014
Ash, a junior, threw for 190 yards and a touchdown in the Longhorns' 38-7 win against North Texas on Aug. 30. While he took numerous hard shots throughout the game, he did not begin exhibiting signs of a concussion until after the game. Ash complained of dizziness and a headache to trainers and was later diagnosed with a concussion.
He has not played in either of Texas' last two games, both losses. Ash was a starter in parts of each of the last three seasons, but bouts with concussions limited him to only three games in 2013. He suffered his first in a 40-21 loss to BYU in Week 2 before going down two games later against Kansas State, effectively ending his season as he struggled to return.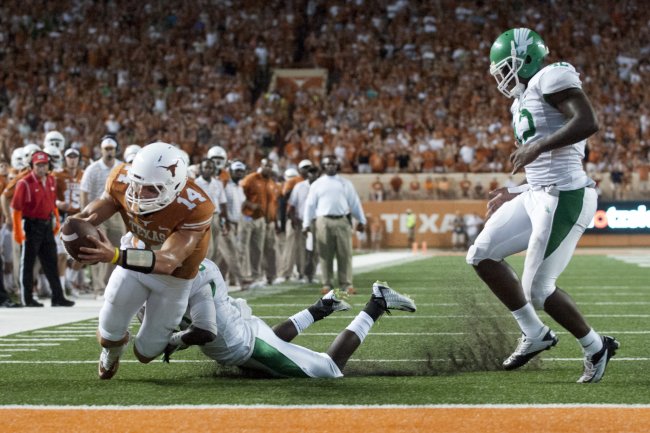 Cooper Neill/Getty Images
The NCAA granted Ash an extra year of eligibility, and after being cleared to play, he seemed set for a big year. Strong, who replaced longtime Longhorns coach Mack Brown, had a large hand in developing former Louisville star QB Teddy Bridgewater. At 6'3″ and 230 pounds, Ash had a combination of prototypical size and above-average skills that should have prepared him for a breakout.
But as news of Ash's latest head injury became public, a growing chorus wondered whether he should be playing football at all.
"That's a decision his family is going to have to make," Strong told reporters earlier this month. "You have to be concerned, any time you have that number of concussions. We will never jeopardize a young man's health for the sake of this football team. That will always be the case."
Thank you David Ash, you gave your all to the University of Texas. I respect your decision and good luck in the future my brother

— Kevin Durant (@KDTrey5) September 17, 2014
In announcing Ash's retirement, Strong indicated that the quarterback came to him and said this was the best thing for his future, per the American-Statesman's Kirk Bohl:
Charlie Strong said Ash approached him. "His health is our major concern." — kbohls (@kbohls) September 17, 2014
Ash's former coach Mack Brown wished him good luck as well:
Thank You David Ash for all the hard work and effort you gave Texas FB. May God Bless You moving forward. Good Luck!

— Mack Brown (@ESPN_CoachMack) September 18, 2014
Ash, 22, finishes his college football career with 4,728 passing yards and 31 touchdowns against 18 interceptions. An underrated athlete, he added 379 yards and five touchdowns on the ground. As he has the past two weeks, sophomore Tyrone Swoopes will continue as Texas' starting quarterback going forward. Swoopes has thrown for 372 yards and three touchdowns against one interception this season but has struggled to make plays down the field. The Longhorns have averaged less than 300 yards of offense in his first two starts.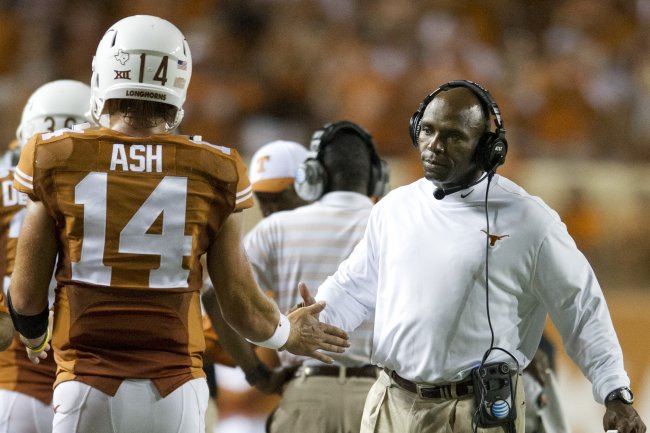 Cooper Neill/Getty Images
Given the numerous players already suspended or kicked off the team in Strong's short tenure, losing Ash is a tough blow in what's shaping up to be a rough season in Austin. But as Strong and everyone associated with the Texas program has said throughout this ordeal, the most important thing is that Ash is able to live a long and healthy life. If walking away from football is the only way that can happen, then he's making the right decision.